ETL/ELT Pricing Guide: What's the Total Monthly Cost?
Learn more about the pricing models of Fivetran, Hevo, and Stitch ELT and ETL tools to estimate what your cost per month for using these platforms would be.
ETL and ELT tools are key components in the Modern Data Stack. They help you transfer data from various sources to the data warehouse on a target server, saving time in the process. In this blog post, we will look into the pricing models of three popular cloud-based ELT and ETL tools: Fivetran, Hevo, and Stitchdata. This will help you estimate what your cost per month for using these platforms would be.
How Does ETL/ELT Pricing Work?
Cloud-based platforms such as Fivetran, Hevo, and Stitchdata offer pay-as-you-go plans. Thus, their ETL/ELT pricing depends on how much data is transferred to the data warehouse. The platform counts the number of rows that are being added or updated in the data warehouse. In other words, the more data you transfer, the more you pay. Let's look into each of these tools to learn more.
Popular ETL/ELT Tools and Their Pricing Models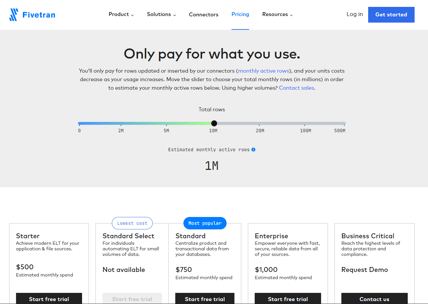 1. Fivetran
Fivetran is a popular choice for many businesses and a leader in automated data integration. Founded in 2013, it started as an alternative to traditional ETL tools that underperformed and frequently caused projects to fail.
Currently, the company serves thousands of customers worldwide, including large and well-known brands such as Autodesk, ASICS, DocuSign, Urban Outfitters, Square, Lionsgate, and more.
Fivetran supports Reverse ETL. It offers monthly and annual subscriptions with five different pricing plans:

Starter - for small teams of up to 10 users starting in the modern data stack,

Standard Select - for one-person teams working with low data volumes of up to 0.5 million monthly data rows,
Standard - for small, fast-growing teams, Enterprise - for large teams that need real-time data delivery and increased security, and business Critical - custom ETL/ELT pricing for large global enterprise teams working with large data volumes.
You can try this platform for free for 14 days. Find more about Fivetran ETL/ELT pricing here.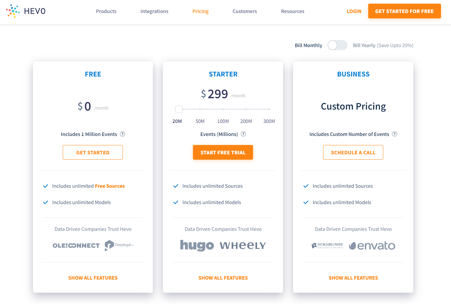 2. Hevo
Hevo, also known as Hevo Data, is another popular automated, unified data platform and a leader on G2. The platform can unify and sync data from over 150 sources and continuously add more integrations. It also facilitates Reverse ETL, and services companies such as Envato.
Hevo offers three different pricing plans:
Free - allows up to 1 million events per month,

Starter - allows up to 300 million monthly events and pricing on a sliding scale that increases proportionally to your usage, and

Business - custom plan for large enterprises working with large data volumes.
You can opt to pay monthly or yearly, saving 20% of the total annual cost.
Hevo offers a free 14-day trial to new users. You can learn more about Hevo Data pricing and what each of its plans includes here.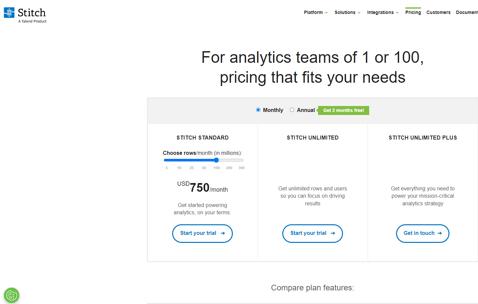 3.

Stitch

Stitch or Stitchdata is a cloud-based, developer-focused platform that aims to help businesses regain control and ownership of their data. Acquired by Talend in late 2018, it currently operates as an autonomous business unit.

Stitch offers three pricing plans:
Standard - for individuals new to data management,

Advanced - for small and medium-sized teams, and

Premium - for larger, fast-growing organizations working with high volumes of data and requiring top-quality security and compliance.
Each of Stitch's pricing plans has its own set of features and comes with a free 14-day trial. However, none of them supports Reverse ETL. The Standard plan allows you to pay on a monthly or annual basis. However, both Advanced and Premium plans are billed yearly.
Go here to learn more about Stitch ETL/ELT pricing plans and what they include.
How Much Can You Expect to Pay Each Month?
1. ETL 10 Million Rows
Do you work with large volumes of data and estimate that you'll add/update 10 million rows a month? If so, how much will you pay for cloud-based ETL/ELT solutions? We estimate that you will pay $750 per month with Fivetran and $299 with Hevo. Stitch offers the lowest pricing, $180 per month. However, it does not support Reverse ETL.

2. ETL 100 Million Rows
Let's say you are generating even more data. So, you'll add/update 100 million rows a month. In this case, how much will we pay for our cloud-based ETL/ELT solutions? Fivetran solutions will cost you $3,570 monthly, while Hevo will charge $949 and Stitch - $750 per month.

3. ETL 250 Million Rows
If your organization grows and the data volume reaches 250m million rows a month, pricing will also increase. In this case, Fivetran cloud-based ETL/ELT solutions will cost $6,924 per month. Meanwhile, Hevo and Stitch will equate to $1,749 and $1,250 per month, respectively.

Conclusion
Despite being a dominant player in the industry, Fivetran is a more expensive solution. Stitch and Hevo are very close to each other in terms of pricing.
Reverse ELT is an important criterion when you are making your decision. Both Fivetran and Hevo support it while Stitch doesn't.
It is beneficial for you to choose and stick with a single ETL/ELT tool. If you use more than one, it can become harder and more challenging.
There is a range of critical factors besides pricing that you need to consider when choosing the best ELT tool for your needs. If you are unsure of what you need to keep in mind, please refer to our blog post on the topic.
If you'd like Datrick to help you pick the most advantageous solutions, feel free to schedule a consultation with us.